Sixteen Below in the Valley today. Spent the dark hours getting up hourly to make sure the water pipes were good and listening to the furnace. Everything came through just fine, of course! I slept downstairs to keep a better eye and ear on things that go bump.
Deep cold has it's own set of wonderments. The frost on the inside window glass. The protesting wail of the door hinges. The way a hot cup of coffee feels so good in my hands....I could go on and on.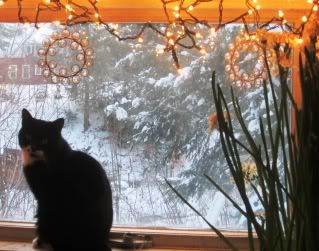 Ada in the window with the last of the paper whites.
I remember "back in the day" when it used to get really cold, and stay really cold for a long time. I think I remember my parents bringing in their vehicle batteries and leaving them by the woodstove. Oh, and the transition from warm-cozy bed to freezing cold bedroom. Brrr. Brrrrrr.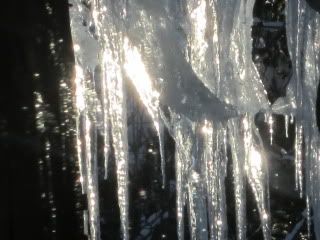 icicles
And since it was so cold, we were blessed with a near crystal clear day. Temps climbed into the 20s and the birds came and went all day at the feeders...stocking up and making up for lost calories.
Now, for tomorrow we have *rain* forecast. How can this be?!! I'm nostalgic for wintertime, regular style.
worcester range